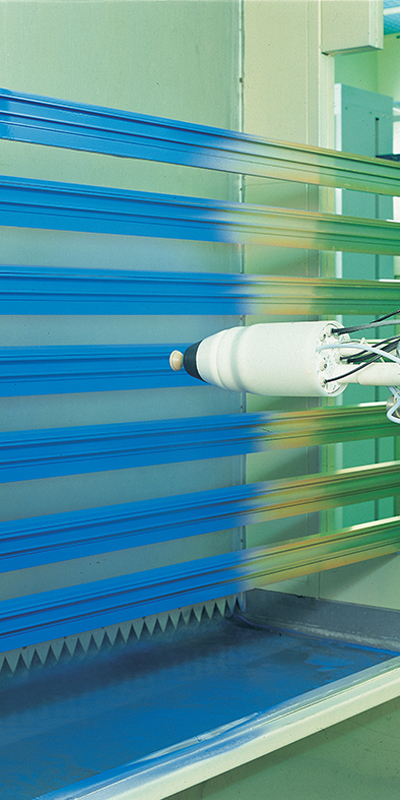 Powder Coating and Fluorocarbon/ Polyvinylidene Fluoride (PVDF)

Our fully-automated vertical powder coating line comes equipped with advanced spray booth and guns from Wagner, Germany. Together with our horizontal powder coating lines, they can deliver a total annual capacity of 24,000 metric tonnes.
The ALBECoat fully integrated powder-coating process offers additional surface finishing that meets the ever-growing demands of our customers and which adheres to the RAL International Colour Code Standard. This single application coating provides a wide-range of solid and metallic colours with different gloss levels and options for texture finish.
In addition, the ALBECoat Fluorocarbon/ Polyvinylidene Fluoride (PVDF) finishing is another high-quality process which involves thinly applying wet-paint to workpieces via electrostatic spray to form a film, which is further heated to polymerize and cure the coating. Fluorocarbon/ Polyvinylidene Fluoride (PVDF) uses a 4-coat system provides excellent colour consistency against fading and UV rays.
Technical Data:
Powder Coating Properties
Film Thickness (ISO 2360) – average above 60 micron
Gloss (ISO 2813, 60 degrees) – 20-40%, 50-95%
Impact Resistant (D2794-5/8" ballat 40ib.in) – direct and reverse (both no cracking)
Conical Mandrel (ISO 6860) – no cracking at 5mm diameter
Adhesion (ISO 2409) – GT = 0
Salt Spray Resistance
ASTM B 117-73 on chromated Aluminium, 2000 hrs (no blistering or loss of adhesion)
Humidity Resistance
ASTM D2247 on chromated Aluminium, 1000 hrs (no blistering or loss of adhesion)
Accelerated Weathering
DIN 53231 1000 hrs Suntest (150 kilolux, 40 degree C, UV limit 320 nm, water immersion every 20 mins) – total colour change (washed) Delta E = 0.8 – 3.0, excellent gloss retention, negligible chalking
Natural Weathering – Florida Exposure
24 months exposure – excellent gloss retention. Neglible chalking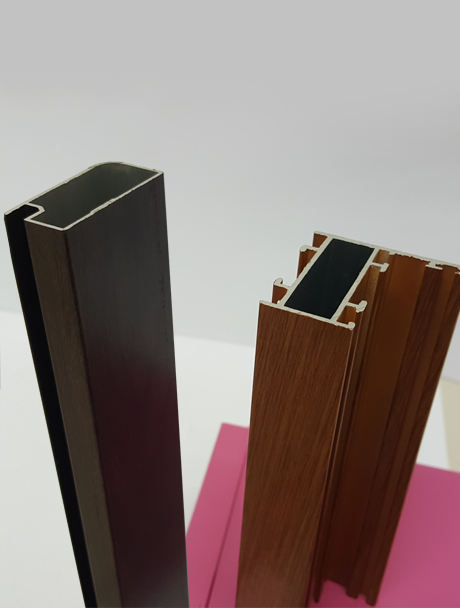 ALWood is a revolutionary new design in wood patterns for aluminum surfaces which adds a natural rich touch of fantasy and elegance to your surroundings. Pro-environment, multi-coloured and refined, ALWood is a work of art accomplished through further heat transfer lamination process on the powder coated finish. ALWood is multi-dimensional and specially designed for both indoors and outdoors.
Tests and requirements for wood grain finishing products:
| Test Item | Test method |
| --- | --- |
| Accelerated weathering test, 1000 hours | EN ISO 11341 |
| Thickness measurement | ISO 2808 |
| Acetic acid salt spray test, 1000 hours | ISO 9227 |
| Kesternich moist sulphur dioxide test, 24 cycles | ISO 3231 |
| Pressure cooker test (resistance to boiling water) | BS EN 12206-1 |
| Pencil hardness | ASTM D3363 |
| Abrasion test by falling sand | ASTM D968 |
| Impact test | ASTM D2794 |
| Adhesion test (cross-cut test) | ISO 2409 |
| Cylindrical mandrel bend test, 5mm | ISO 1519 |
| Solvent test for polymerization (MEK resistance test, 30 double rub) | ASTM D5402 |
| Natural outdoor exposure test, 1 year | ISO 2810 |